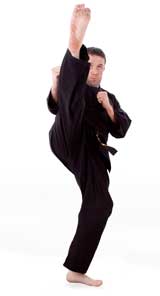 Lead Instructor: Master Pat Forde 5th Dan Black Belt Over 32 Years Experience
As an instructor Master Pat Forde is highly experienced with close links to the community. Students under his instruction have developed very strong skills & have been given the opportunity to excel. Master Forde has already instructed many students to black belt grade & these students still attend class today as a focus of Munster Martial Arts is to help further develop these students also. For those students that wish to compete we have an established competition team. Under Master Forde's instruction members of our competition team have achieved at both national and international competition winning many national medals and competing successfully internationally.
Not all of our students choose to compete but all students in our classes have greatly benefited from Master Forde's instruction methods. Academics is always stressed in class and many of our students have achieved impressive academic results in parallel with their martial arts development. Master Forde has featured on local & national media to discuss aspects of our classes , he has himself represented Ireland in International Competition & has had a student nomination for Bank of Ireland National Student Achievement Awards for achievement reached through his instruction.
Master Forde's Background
Pat Forde is from Limerick city and attended St Brigids School & CBS Sexton Street where he completed his leaving certificate in 1994. It was while a student in CBS that Mr Forde started his martial arts training in late 1989/early 1990. After attending CBS Master Forde went on to study at the University of Limerick where he graduated in 1999.
Pat's family history had been in boxing , both his father and uncle had been well known local amateur boxers in their youth boxing in St Francis boxing club in Limerick where they won many fights and titles. When Pat wanted to take up a similar activity a friend of the family recommended a local club.
"Martial arts didn't come easy at first and I found the training tough and the techniques very difficult. I had never really done any sports before so this was all very new to me and I remember thinking it seemed to be coming much easier at first to the other students in the class. Over time this probably made me train even harder."
"I was lucky to have a great instructor and as I progressed through the grades I feel I got stronger and grew in confidence."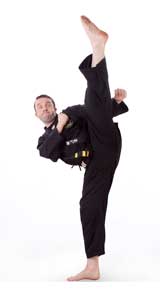 Master Forde earned his colour belt grades in the early 1990's. While training with Master Galligan during this period Master Forde was also able to train with some of Master Hedges senior instructors. Mr Forde also attended several seminars and gradings under Master Suresh Nar 4th Dan Black Belt.
In 1995 Master Forde was graded for his black belt by Grandmaster Jae Joon Kim 10th Dan in Claughan GAA Club, Limerick. Up until his death Grand Master Kim had been one of the top authorities of Tang Soo Do in the world. Grand Master Kim had been instructor to former world champion and famous actor Chuck Norris. Master Forde was in the first group of students who achieved their Tang Soo Do Moo Do Kwan Black Belts in Ireland. He had just commenced studying in the University of Limerick when he received his black belt.
While continuing Tang Soo Do training in University Master Forde also participated in different styles, he trained with Mr Paddy Moloney in Tae Kwon Do. Master Forde also attended Judo Classes and Wado classes under Mr Derek Desmond 5th Dan & instructor of the Irish National Karate team.
"I think my martial arts training did benefit my academic studies while attending UL . While in college I really enjoyed myself and I made many great friends that I'm sure I'll have for life but when it came down to studying I always knew what I had to do and was prepared to do it. The discipline in my training definitely help me mentally & I think when I learned to apply the same work ethic to my studies as I had to my training it greatly benefited my studies & academic results in UL"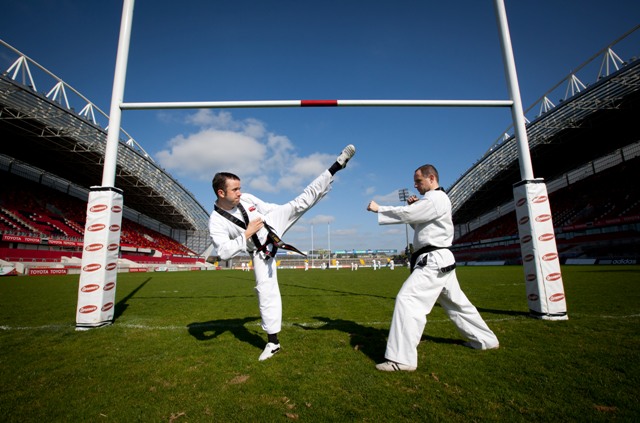 Master Forde graduated from the University of Limerick in 1999 with a 2nd Class Honours Degree.
Master Forde was over-due his 2nd Dan grading when he graduated from the University of Limerick but passed on the opportunity due to work commitments. He spent some time working in London and used this time to continue his martial arts training taking part in Kickboxing in Ilford in Essex.
Master Forde waited until 2002 to take the opportunity to grade for his 2nd Dan in Tang Soo Do when Grandmaster Jae Joon Kim 10th Dan returned to Ireland accompanied by Master Saul Kim 8th Dan Black Belt. Both Grandmaster Kim & Master Saul Kim graded Master Forde for his 2nd Dan. During this period he had the opportunity to train closely with Grandmaster Kim & Master Saul Kim attending several seminars and classes with them both.
At this point Master Forde had begun instructing students of his own. Some of Pat's first students had the opportunity to train with Grand Master Kim while on his visit to Ireland.
Master Forde was graded for his 3rd Dan & is certified under Master Galligan, Grand Master Chang H. Park , World Korean Martial Arts Union & National Tang Soo Do Federation.
Master Forde was graded for his 4th Dan under Grand Master Dominick Giacobbe , 8th Dan Black Belt & President of the Intercontinental Tang Soo Do Organisation.
Master Forde has received certificates of Appreciation and Commitment from Grandmaster Kim for his commitment to the World Moo Duk Kwan Tang Soo Do Federation and his efforts towards developing Tang Soo Do in Ireland. He was also presented with an award at the Cheezic Tang Soo Do world championships in Poland. In 2010 Master Forde was presented with an award from the Inter-continental Tang Soo Do Organisation for his commitment to the development of Tang Soo Do in Ireland. In 2010 Master Forde was also presented by an award at the All Ireland Championships by Master Nar. At the 2011 World Championships in Wales Master Forde was again presented with a Masters Award.
Master Forde has represented Ireland in international competition. Not all students who take part in Tang Soo Do classes want to compete, in recognition of this Master Forde formed a competition team for his students when the students were ready to compete. With Master Forde as team coach the competition team achieved fantastic results. These can be seen on the competition team page. The approach to competition has been simple.
"Competition is an option , If students want to compete they can, if students don't want to compete they don't have to but everybody gets the same training & opportunity to develop in class."
In competition our team was never the biggest team in attendance but our team spirit & results always stand out. Over the past number of years all members of our competition team would frequently win medals in their divisions and many of our team have won medals in every competition they have entered.
Master Forde's students have achieved in International Competition. Some of our students have now represented Ireland on more than one occasion.
Master Forde was Irish Team coach at the Tang Soo Do World Championships in Cardiff , Wales in May 2011 where all the team were students of his. Under Master Forde's instruction the team won a very impressive 11 medals including 3 Gold, 5 Silver & 3 Bronze medal.
Master Forde was Irish Team coach at the Cheezic Tang Soo Do World Championships in Poland in October 2009 where all the team were students of his. Under Master Forde's instruction the small team won 2 Gold, 1 Silver & 1 Bronze medal.
Master Forde is currently instructed by Grand Master Giacobbe , 8th Dan Black Belt and president of the Inter-Continental Tang Soo Do Association.
Munster Martial Arts represents an opportunity to further develop Tang Soo Do and martial arts in Ireland , it gives our students a unique opportunity to participate, develop and excel. It would not have been possible without the help and support of all my students, family, friends.
In addition to his martial arts expertise Master Forde is also passionate about the protection of kids from bullying. To this extent we have launched our Anti-Bully Bootcamp programme which has been very successful nationally. Anti-Bully Bootcamp helps kids turn possible bullying situations around by helping them build confidence, self-esteem & assertiveness with new body language, ways of speaking , and sense of self.
To facilitate Anti-Bully Bootcamp Master Forde wanted to greatly improve on the skills and anti bullying methods we used in our martial arts class to make the programme suitable for all kids. Our aim was to provide a programme that rather than just talked about the negative effects of bullying gave kids and parents a positive programme that would help families deal with and help prevent bullying situations. To achieve this it was vital to seek out training that deals with anti-bullying and after conducting research both in Ireland and abroad Master Forde has received training in the UK. All anti-bully bootcamps are delivered by our lead instructor Master Pat Forde. Master Pat Forde is fully Garda Vetted and has many years of experience working with young people.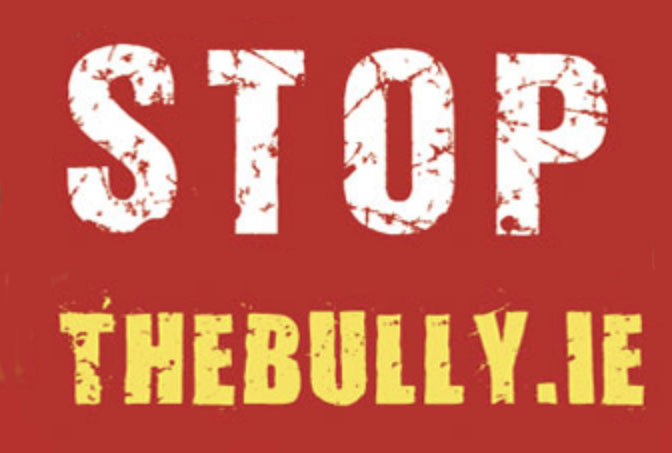 Stop the Bully
Ireland is an anti-bullying service which empowers people at all ages with the tools to effectively deal with bullying. Bullying in Ireland has become a serious concern . If you are a parent in turmoil about a bullying situation, a teenager who is having difficulty with others or a school who wants a program to educate, empower and really help their students then we can help you.