Munster Martial Arts International Success 2016
Limerick club Munster Martial Arts was proud to represent Ireland and enjoyed tremendous success at the 2016 Tang Soo Do Championships in Cardiff, Wales last week with the local club doing extremely well bringing home 3 Gold and a Silver medal.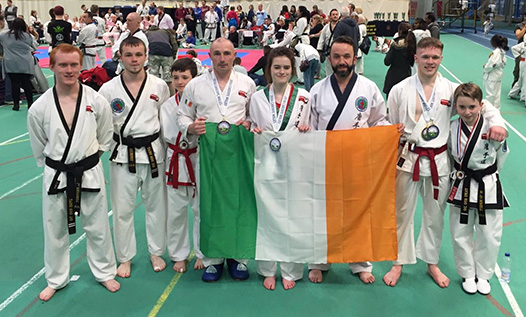 Team members are Master Pat Forde Coach , Con Fitzgibbon , Jade Kelly , Michael GAmmell , Luke Kennedy , Megan Kennedy , Jack Murphy and Calvin Murphy & Calen Martin
The event is the largest international Tang Soo Do competition in the world and this year was attended by competitors all over the UK, Wales , the USA , South Africa and many teams from all over Europe . The event is a really unique spectacle with over 1100 competitors and hundreds of masters gathered from many different organisations. Also as 2016 is an Olymipic Year the event was used by some of the British Tae Kwon Do Athletes in preparation for this years Olympics.
The Irish Team consisted of Team Coach Master Pat Forde and competitors Con Fitzgibbon, Luke Kennedy, Jack Murphy, Michael Gammell, Jade Kelly, Megan Kennedy, Calen Martin & Calvin Murphy. The competition this year was of particularly high standard with all the Irish team doing very well. 16 Year old Megan Kennedy kicked off the teams medal winnings by winning a silver medal for her sparring in the ladies division. Megan's brother Luke also competed in the Black belt divisions and very narrowly missed on a medal to a British Athelete in preparation for this years Olympics. In the mens division Con Fitzgibbon did extremely well winning a gold medal for the Forms Division. These forms (patterns) or Hyungs are one of the most important aspects of Tang Soo Do and winning in these divisions is very tough but a great indicator of how successssful and prepared the competitors are as martial artists as well as athletes.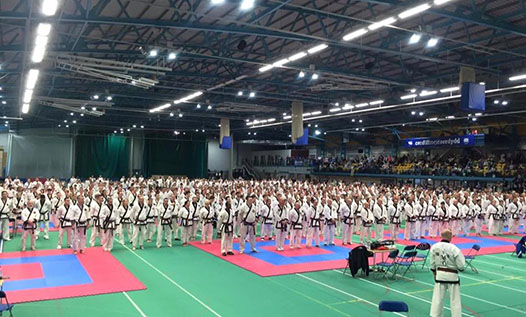 Con also competed in the sparring division and just narrowly missed out on a medal in a fight in the later rounds against a Dutch Athlete who went on to win the competition. This is not Con's first time competing successfully as part of the Irish team and he has now been successful at three international tournaments and has established himself internationally with a highly respected competition record . In the red belt division team member Calvin Murphy (17 ) enjoyed tremendous success competing in one of the biggest divisions. Calvin kept his nerve and won a gold medal for his forms beating competitors from all over the UK , Europe and competitors from the USA before taking part in the sparring division. Calvin was one of the youngest in his division successfully and he faught his way through the tournament showing fantastic fighting skills that were admired and complemented by all. Calvin was a very worthy winner of the gold medal in the red belt sparring and forms division.
Other team members Jack Murphy , Calen Martin Jade Kelly, and Michael Gammell also enjoyed a very successful day at the tournament narrowly missing out on medals of their own. What makes these events so special is that successes truely are a team success on the day and also in how the team prepares in the lead up for the event with the help and support of all the Munster Martial Arts Students in Limerick.
Munster Martial Arts ITO Tang Soo Do Ireland has a very highy respected record internationally. Under Chief Instructor Master Pat Forde who has over 25 years experience the club has now accumulated 28 International Championship medals in recent years competing against the best teams in the World. Master Forde teaches classes in the city and throughout the county. For more information on classes please see munstermartialarts.ie or call 087 2366866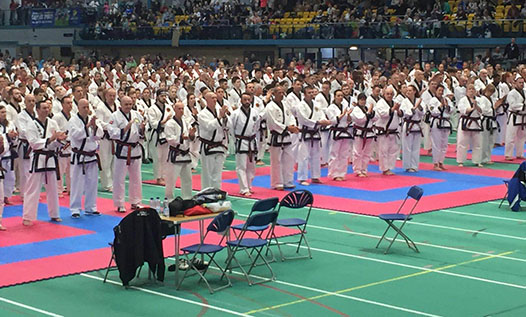 Recommended

for You

Read more stories and Munster Martial Arts news.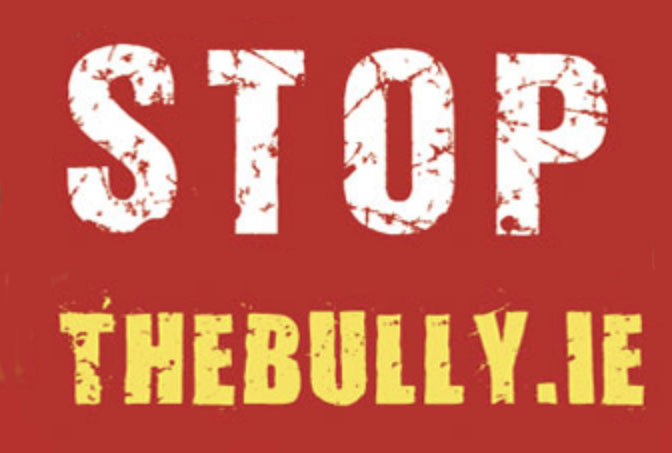 Stop the Bully
Ireland is an anti-bullying service which empowers people at all ages with the tools to effectively deal with bullying. Bullying in Ireland has become a serious concern . If you are a parent in turmoil about a bullying situation, a teenager who is having difficulty with others or a school who wants a program to educate, empower and really help their students then we can help you.